Sun Up RTD Fruit Drink
Ready-to-Drink Fruit Drinks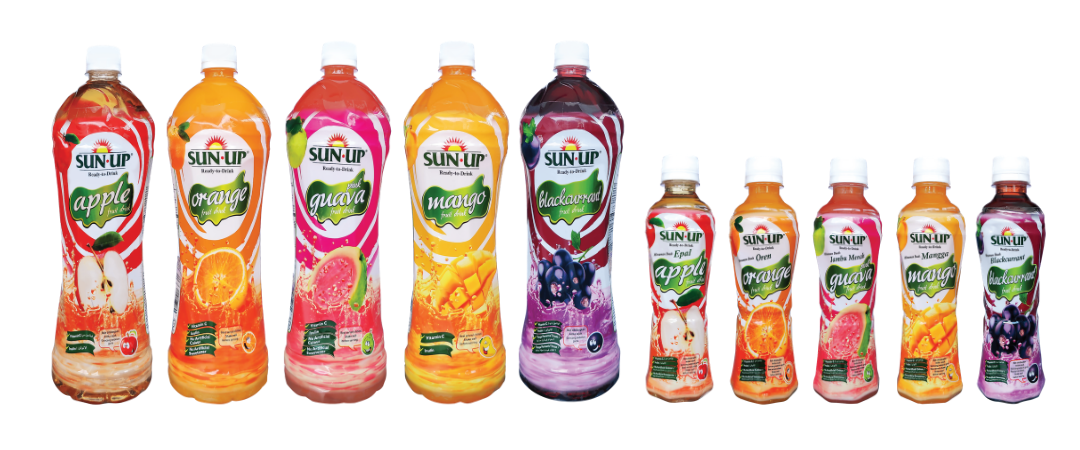 SUN UP ready-to-drink fruit drinks are made from selected fruits which helps restore, rejuvenate and revitalize the body. The perfect thirst quenching and convenient drink for any occasion.
products
shelf life
packing
(gross weight)
measurement
(mm)
quantity / 20ft container
Apple
12 months
350ml x 24 bottles
(9.80 kg / carton)
370 x 250 x 210
(0.0194 m³ / carton)
1,550 cartons
Orange with pulp
Mango
1.5L x 12 bottles
(20.00 kg / carton)
400 x 302 x 318
(0.0384 m³ / carton)
750 cartons
Blackcurrant
Pink Guava
Made from selected fruit juice concentrates/puree.

With vitamin C.

Contains Inulin – Inulin is prebiotic and bifidogenic. It helps to increase the intestinal bifidogenic and helps to maintain good and healthy intestinal environment. 

Contains no artificial colour and sweetener

.

Hygienically packed in a uniquely designed and structurally strong bottle that includes a special air-tight cap.

The packaging is attractively designed to create easy identification among consumers

.

Good Manufacturing Practice (GMP) assures good and consistent product endorsement body.

Produced from a company that is ISO 9001:2008 certified

The product is certified Halal, making them suitable for catering to all consumer group

.
Keep in cool, dry place away from heat and direct sunlight.
Shake well before serving.
Best serve chilled.
Keep refrigerated once opened.